The 2021 Atlantic hurricane season has been busy when it comes to named storms. So far, there have been 20 named storms, but more than half have been short-lived. 
There is still a long way to go until the end of hurricane season, which officially ends on November 30. Therefore, we could see a couple more named storms before the season is behind us.
However, the name Wanda remains the last on the list for this year's season before we switch to the alternative list of storm names. 
Remember, the alternative list of names no longer includes the Greek alphabet.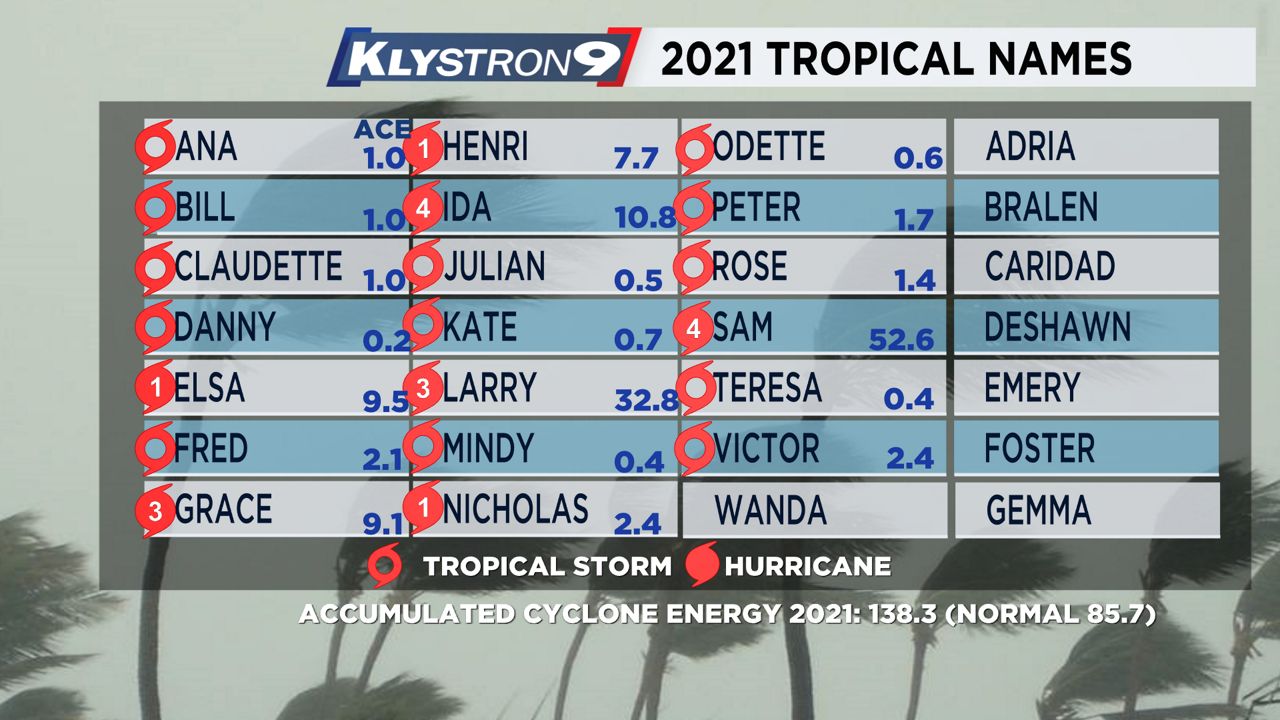 While some reference how busy a hurricane season is by the number of named storms, many meteorologists prefer to use ACE as a metric. It takes into account the storm's intensity and lifespan.
So, a stronger storm that lasts for a week will produce more ACE than a short-lived tropical storm or hurricane. 
The 2021 hurricane season is a perfect example of why many meteorologists prefer to use ACE as the metric for measuring a season's total activity.
Sure, it has been an above active hurricane season on both fronts; the number of named storms and the total ACE of the season. However, this year's hurricane season has seen a tremendous number of short-lived tropical storms or hurricanes. 
Twelve out of the 20 named storms only had a lifespan of fewer than 2.5 days, many of which were named for less than a day. These 12 storms produced very little ACE compared to other hurricanes this season.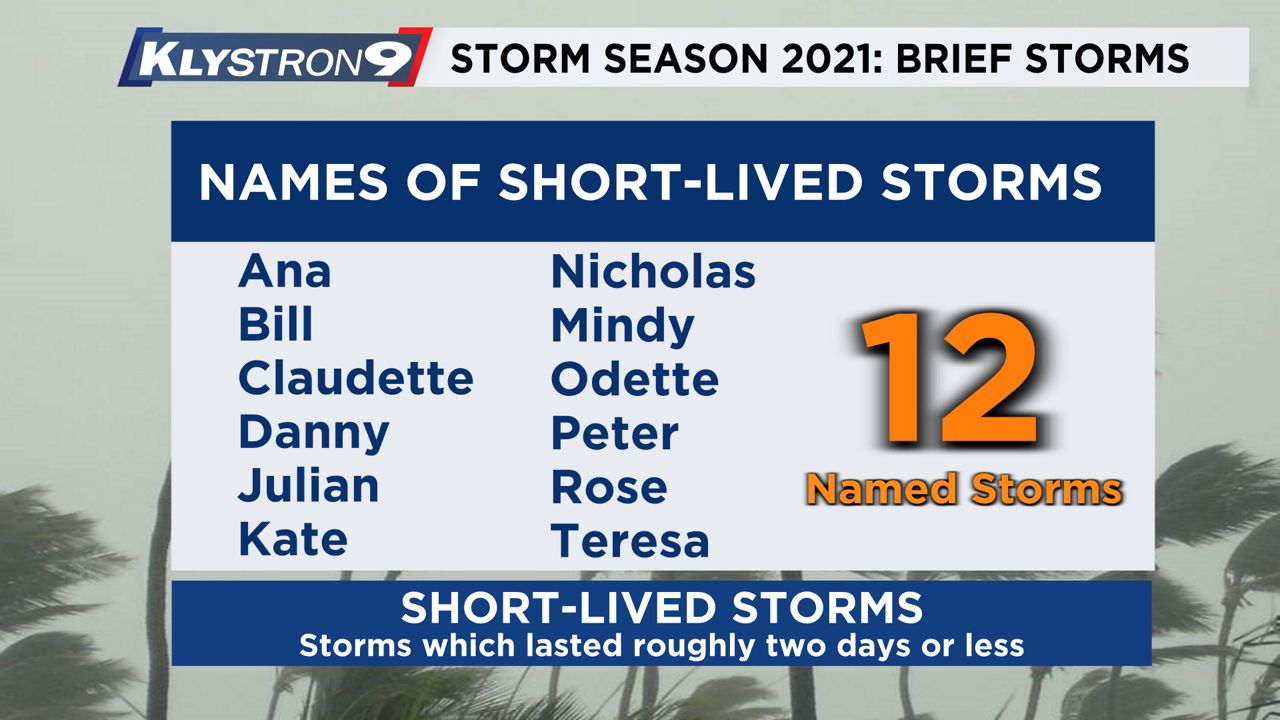 There have been two hurricanes this season that produced more ACE than the rest of the season combined.
Hurricane Larry and Hurricane Sam produced a combined ACE value of 85.4. This is more than the ACE produced from the other 18 storms combined this season!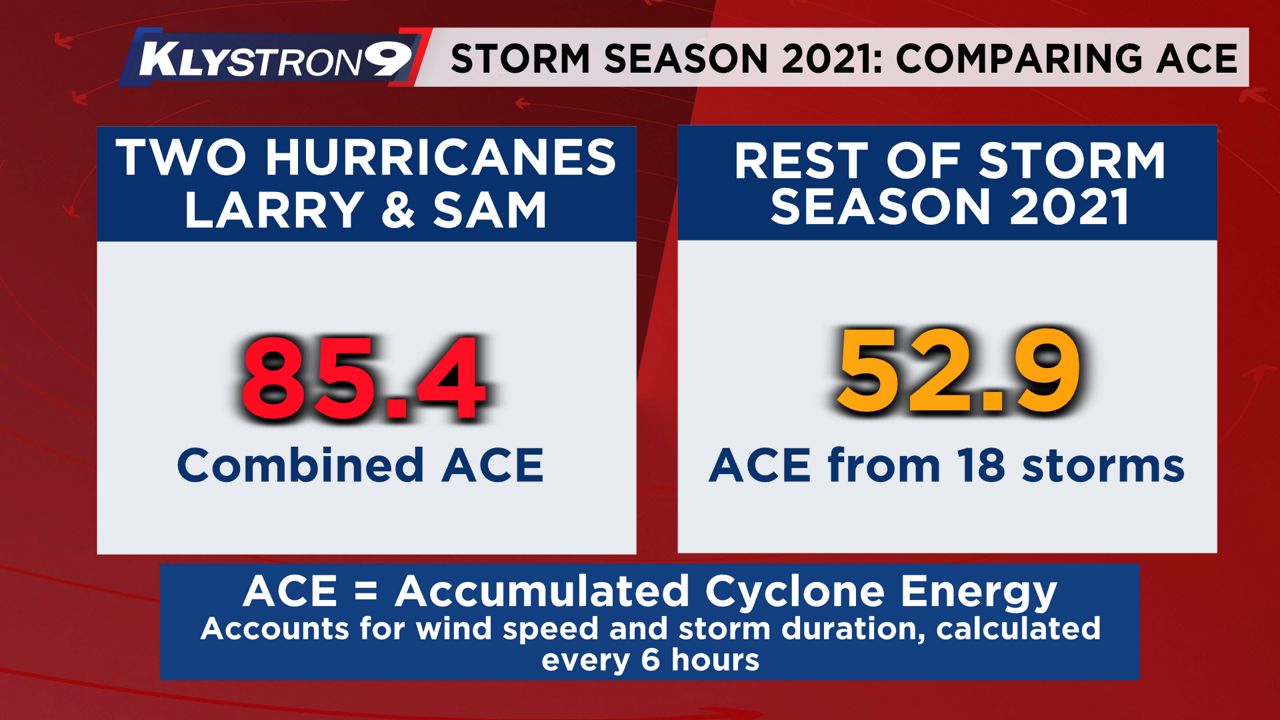 Hurricane Larry was a long-lived major hurricane that lived for 10.5 days before making landfall in Newfoundland as a Category 1 hurricane. 
Hurricane Sam lived for 11 days and held its strength as a major hurricane for nearly eight days. It was borderline Category 5 with peak winds of 155 mph. Fortunately, Hurricane Sam did not strike land. 
In previous years, many of the 12 short-lived storms may have never been named, but technology in recent times has allowed for better detection of short-lived storms in the Atlantic. 
The 2021 hurricane season has produced an ACE value of 138.3 so far, which is above the climatological normal of 85.7. However, tropical activity across the Northern Hemisphere altogether remains below normal when measured by ACE. 
Thankfully, we are at the time of year where tropical activity decreases through the remainder of the season. As we head into November, conditions for hurricane development become more hostile, with very few storms affecting land in November.