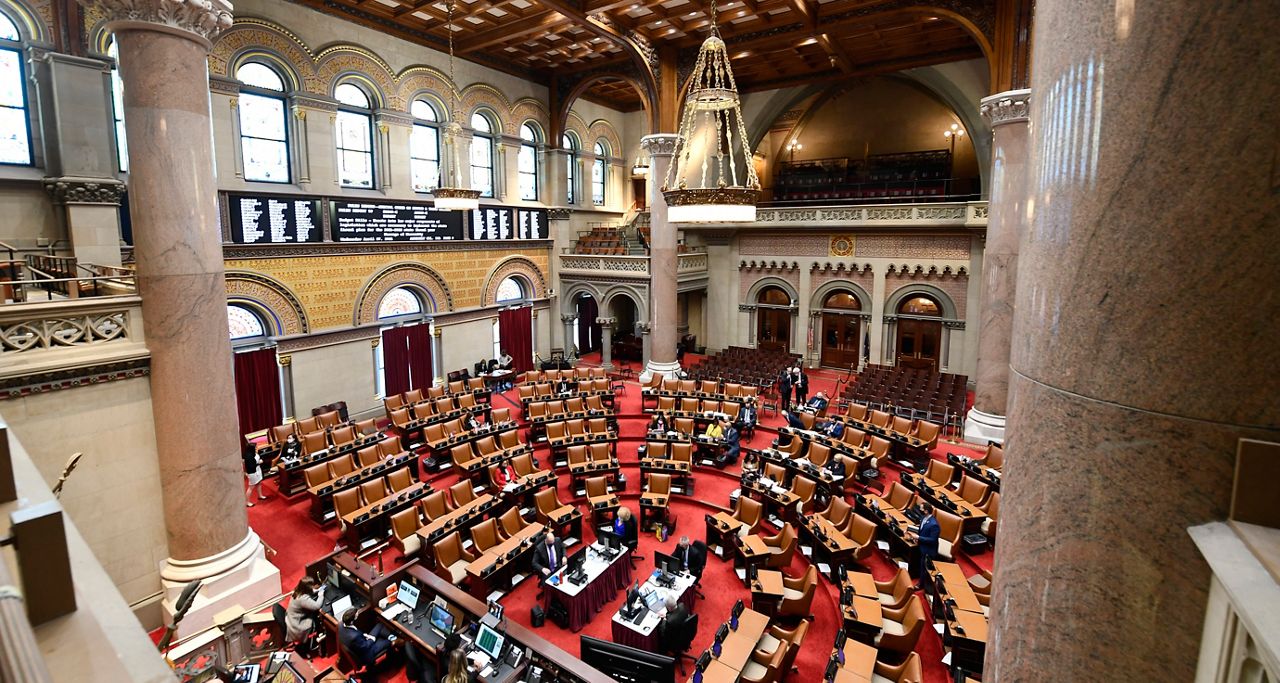 As she travels around New York, Gov. Kathy Hochul has called for measures meant to reduce crime and make it more affordable to live in the state — issues voters have said are top of mind for them.
On Monday in Buffalo, Hochul focused on expanding housing.
"Tackling our housing crisis has to be job number one or we're not going to be able to attract these businesses to come here," Hochul said.
New York lawmakers and Hochul have about a month left on the state budget clock. The spending plan is expected to pass by April 1, the start of the state's fiscal year.
Hochul remains at odds with fellow Democratic lawmakers on issues like taxes and the details of a potential minimum wage increase. Republicans, meanwhile, criticized Hochul's plans that would ban new carbon-based fuel hookups and the impact that would have on ratepayers in New York.
Still, voters continue to have broad concerns with the cost of living in New York as well as public safety. Hochul can leverage those concerns in the coming weeks as the budget talks heat up, said Siena College pollster Steve Greenberg.
"She's got to try and garner public support and get the legislature to try and agree to her proposals," Greenberg said.
Two key items in Hochul's $227 billion spending plan have receive broad support. A Siena College poll Monday found 62% of voters back increasing cigarette taxes by $1. Her plan to index the state's minimum wage to inflation has the backing of 70% of voters — including a majority of Republicans.
"In this era where we see the partisan divide all the time, it's nice to see a few issues where Democrats and Republicans and independents agree," Greenberg said.
But voters are less supportive of Hochul's proposal to end new fossil fuel hookups in new construction by 2025, with 53% of voters opposing the idea. Republicans in the state Senate like Minority Leader Robert Ortt have called on Hochul to shelve the proposal.
"The natural gas ban is a non-starter," Ortt said on Monday during a news conference. "It will not work in any form she has laid out."
Ortt and Republicans continue to raise issues with how the measures meant to address climate change will affect ratepayers amid rising utility rates.
"Seeking a cleaner energy future does not have to involve outright prohibitions on reliable, affordable energy. It should involve common sense, transparency, and affordability for all New Yorkers," Ortt said.
Hochul defended the plan to phase out natural gas hookups, calling it necessary to combat the effects of climate change in New York and transition the state to cleaner and more renewable forms of energy.
"We're the first generation that's really feeling the effects of climate change," Hochul said. "We're seeing that with our storms and all across the country. We're also the last generation that can do something about it."
Support Lumiserver & Cynesys on Tipeee

Visit our sponsors
Wise (formerly TransferWise) is the cheaper, easier way to send money abroad. It helps people move money quickly and easily between bank accounts in different countries. Convert 60+ currencies with ridiculously low fees - on average 7x cheaper than a bank. No hidden fees, no markup on the exchange rate, ever.
Now you can get a free first transfer up to 500£ with your ESNcard. You can access this offer here.
Source link