In late November, a buoy located off the coast of Norfolk, Va., heard a whale.
Erin Meyer-Gutbrod, an assistant professor at the University of South Carolina, is tasked with interpreting, in almost real time, whale sounds and the species that make them. She is waiting for the critically endangered North Atlantic right whale to swim south from Canada and New England to its winter calving grounds off the Georgia and Florida coast.
Whales should be migrating south. But no whales have been spotted passing through South Carolina waters yet. Last year, the first whales were spotted in early November. Researchers across the state are wondering when they will show up.
"It's a great question then: Where are they?" said Erin Weeks, a spokeswoman for the S.C. Department of Natural Resources. 
Time matters. Meyer-Gutbrod — or one of her three graduate students — analyzes the whale sound data every day and updates Robots4Whales.com, which then updates WhaleMaps.org, "typically within less than 12 hours," she said. She is trying to understand precisely when the whales migrate and whether, year after year, they are arriving later to their calving grounds because of climate change.
Researchers have long studied the impact of a warming ocean on the animals' northern feeding grounds. Whales are chasing massive clouds of zooplankton farther into Canada than ever before. Meyer-Gutbrod is one of the only scientists studying how a changing climate is impacting the whales when they go south to give birth.
Whales in decline
The whale that Meyer-Gutbrod heard vocalize near Norfolk on Nov. 27 turned out to be a sei whale, a species that is now abundant, having bounced back to over 10,000 animals in the North Atlantic and 300,000 worldwide after being nearly decimated by 19th century whaling.
Right whales were also hit hard by whaling but, as slow-moving and shallow-loving animals, they never recovered when whaling ended in the early 1900s. Modern America — with its lobster fishery, shipping lanes and rapidly warming waters — has proven just as deadly.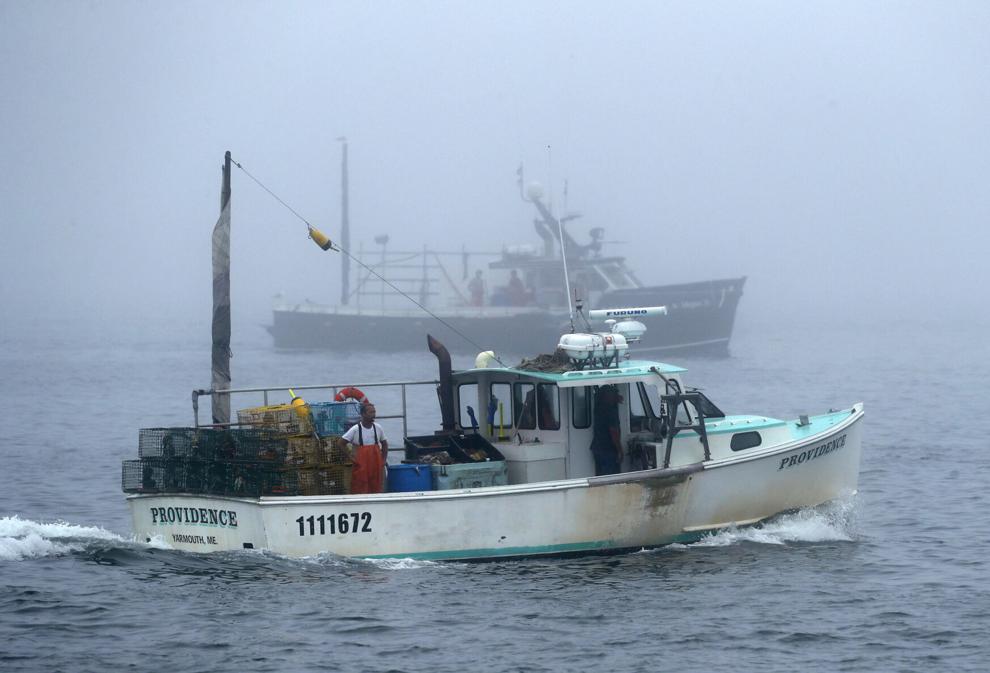 Scientists believe less than 360 North Atlantic right whales remain. Less than a third are birthing females and, in the past five years, only 57 calves have been born. Every right whale spotted swimming in South Carolina's waters, headed to their calving grounds, is noteworthy.
Scientists listen with hydrophones. Dedicated pilots spy from Cessnas. Floridian whale lovers throw the animals an annual welcome party and urge citizens to report any right whale sightings by calling 877-WHALE-HELP.
Everyone is using the same web platform to track them. Crowdsourcing makes it possible. WhaleMap.org compiles whale observations contributed by scientists listening acoustically, like Meyer-Gutbrod, institutions conducting surveys by air, and boaters that report seeing the whale's signature V-shaped blow rising from the water.
According to Hansen Johnson, a Canada-based researcher who runs WhaleMap.org, "all public reports are reviewed and validated by (National Oceanic and Atmospheric Administration) experts before being displayed as confirmed sightings."
On Nov. 30, a boater spotted a right whale surfacing near Jekyll Island, Ga. Within hours, a little blue dot was added to WhaleMap, the first observation in the calving grounds this winter.   
Whales, tangled in lobster fishing gear or hit by boats, die gruesome deaths. Some of those deaths have been documented with striking photos of carcasses on the beach with bloody wounds, creating public outcry and heated political debate.
For more than a decade, speed restrictions have been in place for large boats operating anywhere along the South Carolina coast around calving season. Boats over 65 feet in length must slow to about 12 mph or less from Nov. 1 to April 30. 
This year, NOAA proposed to expand the restrictions to smaller boats, between 35 feet and 65 feet in length. NOAA claims that applying restrictions to boats this size could eliminate 90 percent of vessel strikes.
Small boats in South Carolina and Florida have struck right whales in recent years, including a 2021 strike in Florida that killed a calf. Both of South Carolina's senators have spoken out against NOAA's proposal for expanded restrictions, citing economic and efficiency costs to the state's maritime industries. 
"These climate change questions really matter because … we have fixed dates of when these vessels are expected to slow down," said Meyer-Gutbrod. If whales arrive late to South Carolina this year, they might leave late, too. 
Climate change might be causing the start and end dates of the NOAA-imposed speed restrictions to be out of sync with the whales' actual migration patterns. 
Climate, ships and fishing
The impact of climate change on right whales can be nuanced. Far less less visible than dead whales on the beach, a warming ocean is still having a profound impact. Some scientists claim that climate change is shrinking whales, leading to tinier body sizes. Others say that it is changing where whales eat and what they eat.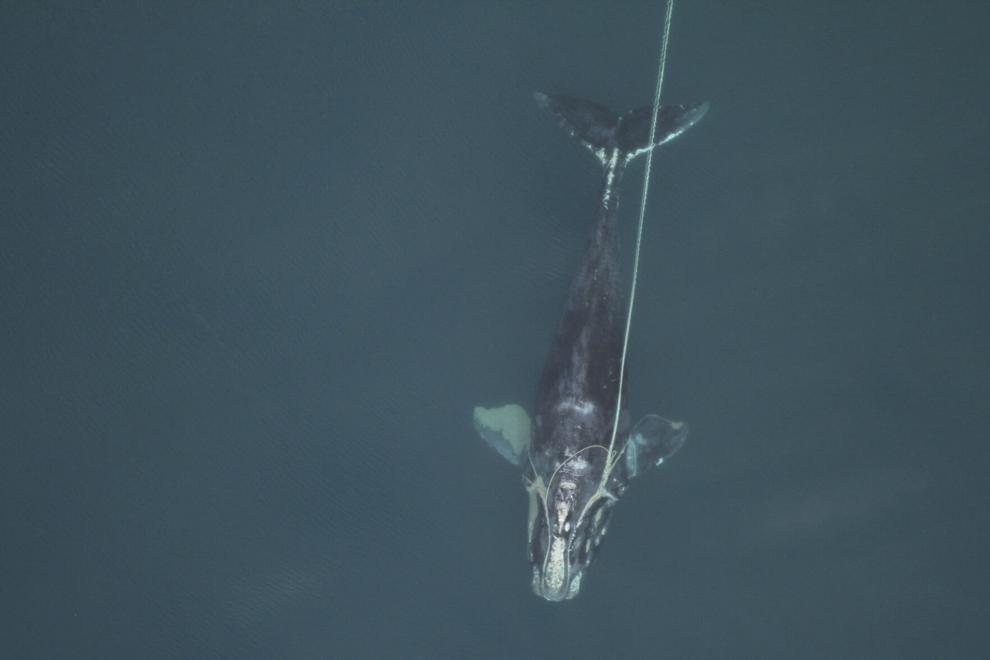 In the 1990s and the 2010s, the ocean insects that right whales eat in the Gulf of Maine — called copepods — were less abundant than in the 2000s because of changing ocean temperatures. Whales moved from food depleted Maine to prey abundant Canada. Meyer-Gutbrod and her colleagues found that these climate-driven changes in feeding had trickle down changes at the calving grounds. They published these findings in the journal Limnology and Oceanography last month. 
"The right whales used to spend their summers feeding up in the Gulf of Maine and now they are spending their summers feeding in the Gulf of St. Lawrence," Meyer-Gutbrod said. "That is really far away. It's 1,000 kilometers!"
For whales swimming farther north in the summer for their food, the swim south in the winter will be longer, too. The right whales may be late because they have a longer, more taxing swim back.
Whales are already using the calving grounds in different ways because of climate change and Meyer-Gutbrod wants to understand the big picture trends: Will they migrate later and later as the ocean warms? Will they start giving birth in more northern areas, possibly in South Carolina waters for the first time? Her research group is deploying more instruments this month to better monitor whale movements in the state's waters.
The seafood industry also is paying attention to these changes to where whales go and when. 
On Nov. 16, the Marine Stewardship Council announced that it was suspending its sustainable fishery certification for the Maine lobster fishery. MSC cited the "climate-driven shifts in habitats and food sources" as the reason why whales have been interacting more with lobster fishing gear in recent years.
In addition to ecological concerns, the suspension of the lobster fishery by the MSC-appointed auditor was driven by a federal ruling in July that ruled that NOAA is not in compliance with the Marine Mammal Protection Act or the Endangered Species Act in its management of the species.
Whole Foods subsequently announced that it will be phasing out the sale of Maine lobster at all locations. 
Most scientists do their research in hopes that it is used by decision makers for the public good. Asked to comment on the news that her climate-related whale research was cited in this announcement, Meyer-Gutbrod let out a deep breath. She declined to comment on whether the sustainable fishery certification suspension was good or bad. 
"I think I understand both sides," said Meyer-Gutbrod. She started researching right whales as a graduate student, studying changes to their prey in the Gulf of Maine, the epicenter for this ongoing debate over whales and lobsters. She said that the fishery is an important source of income and a way of life. She also recognizes the willingness to act now to prevent the species from going extinct in the future. Some say right whales may be extinct within our lifetime.
The wait continues
Meyer-Gutbrod is focused on waiting for the whales. 
"This is really the start of the calving season," she said. "I would wait until January to say whether (the whales) are actually late."
Meyer-Gutbrod used the word "late" reluctantly. She still needs more years of sighting data, collected from a broader swath of ocean, to really see the big trends in whale tardiness. 
The ocean is vast but her climate questions may be answered sooner that expected thanks to a new army of whale observers. Three years ago, the Clearwater Marine Aquarium Research Institute received a grant from the Army Corps of Engineers that has allowed scientists to greatly expand how much of the southeast U.S. is regularly monitored for right whales.
Melanie White of CMARI spent Christmas Eve of last year sitting in a Cessna Skymaster airplane flying 20 miles off the coast of Georgia. She is a right whale conservation project manager and said her Georgia-based research team flies "every good weather day, including holidays," from Dec. 1 to Feb. 28, looking for right whales.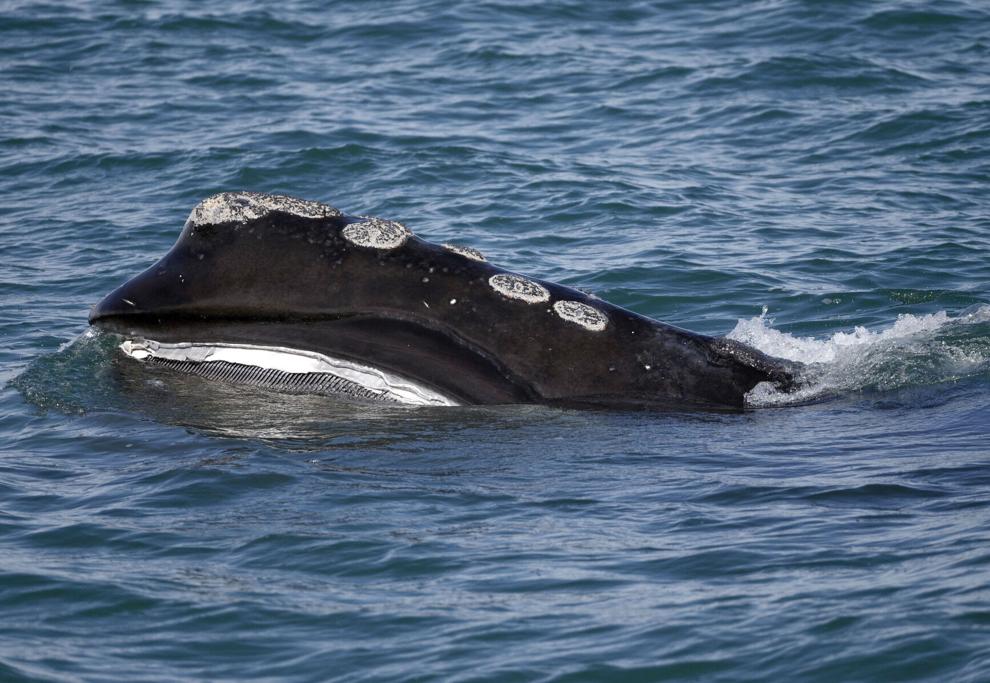 "We now have a lot of coverage going on in winter months," said White. In addition to her team in Georgia, CMARI has a team doing aerial surveys off the coast of Georgetown and Beaufort, N.C., almost daily. 
Traditionally, the Carolinas were seen as a place to pass through. The designated places to spot whales with new calfs are Georgia and Florida. But climate change might be changing that, too.
"We know they have to go though that area," White said. "But are the Carolinas more of a migratory corridor or are they more of a calving area now? That's a big question for us as we work."
White said it's important that boaters in the Carolinas know that it's illegal to be within 500 yards of the animals. "If you see a large whale this time of year, expect it to be a North Atlantic right whale," White said.
Regardless if the whales are just migrating through or indeed giving birth in the waters of South Carolina, speed restrictions for boats longer than 65 feet are now in place.
Whenever the whales do show up, stay clear.


Support Lumiserver & Cynesys on Tipeee

Visit our sponsors
Wise (formerly TransferWise) is the cheaper, easier way to send money abroad. It helps people move money quickly and easily between bank accounts in different countries. Convert 60+ currencies with ridiculously low fees - on average 7x cheaper than a bank. No hidden fees, no markup on the exchange rate, ever.
Now you can get a free first transfer up to 500£ with your ESNcard. You can access this offer here.
Source link