Homes have been destroyed after fires broke out across Norfolk on the hottest day of the year.
Norfolk Fire Service declared a major incident and dealt with more than 100 incidents on Tuesday.
Five homes are thought to have been destroyed in Brancaster Staithe and people were also evacuated from properties in Poringland and Ashill.
Wild Ken Hill said an unknown amount of wildlife had been killed in a fire on the reserve.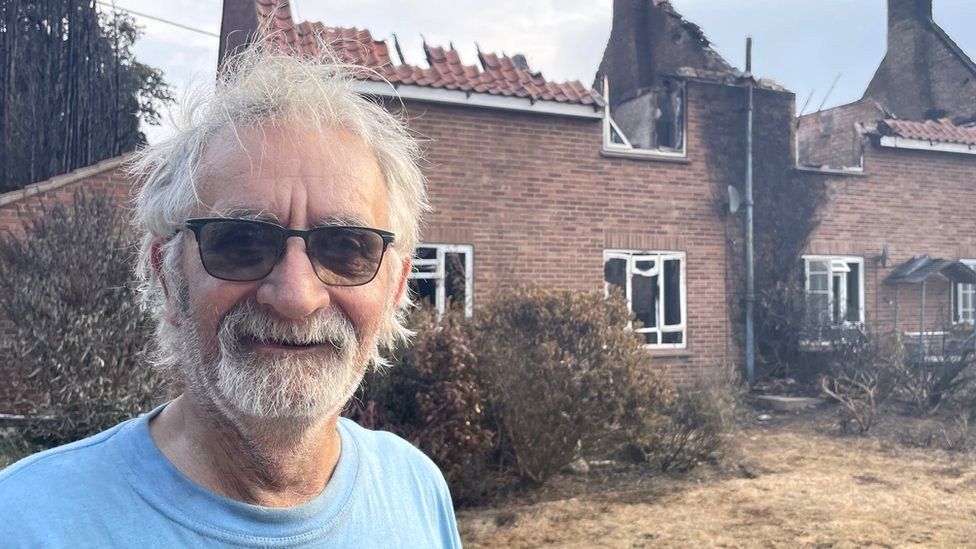 Keith Gant's home for 30 years in Ashmanhaugh, close to Wroxham, has been destroyed.
He said a fire started in a field behind the house and then spread "like a bush fire" into his semi-detached home.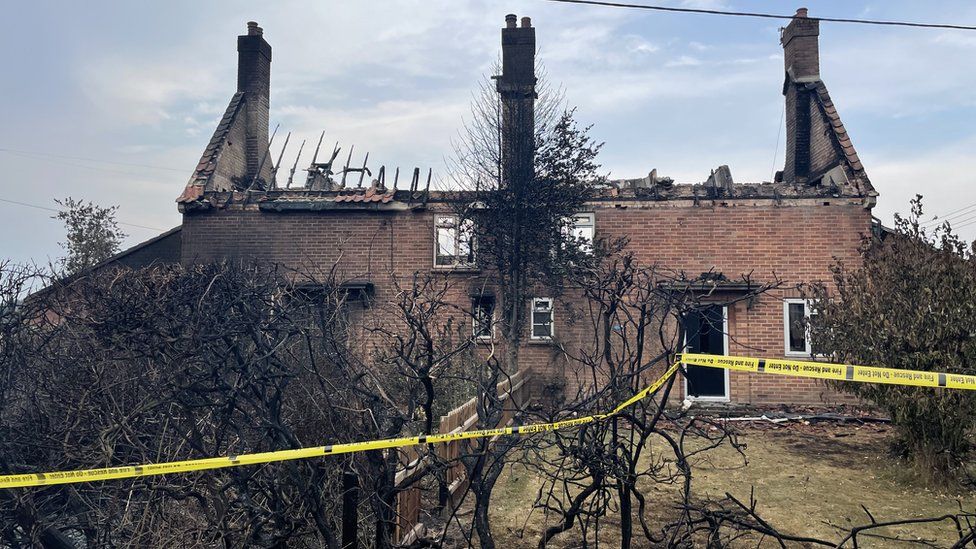 "I've lost everything," he said.
"All I've got is a pair of jeans and a T-shirt to my name."
He said he had videoed farm machinery for 20 years and all his work and cameras had gone,.
"Insurance can't pay for sentimental things," he added.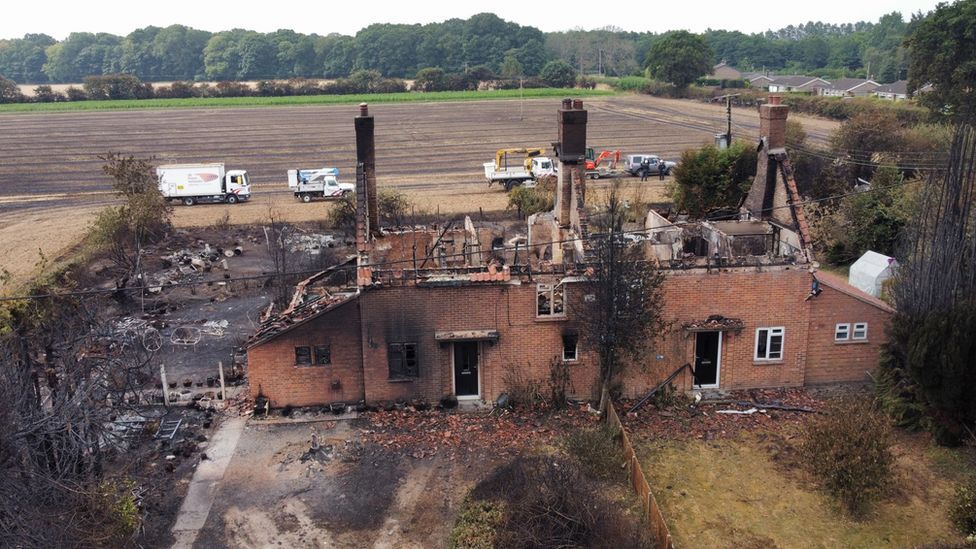 "I was sat indoors, reading a paper with the curtains drawn to keep the heat out and my alarm went off upstairs, so I opened the curtains and I could see nothing for smoke – it just swept across."
He has made plans to stay with his brother-in-law but said he would need to find somewhere else to live.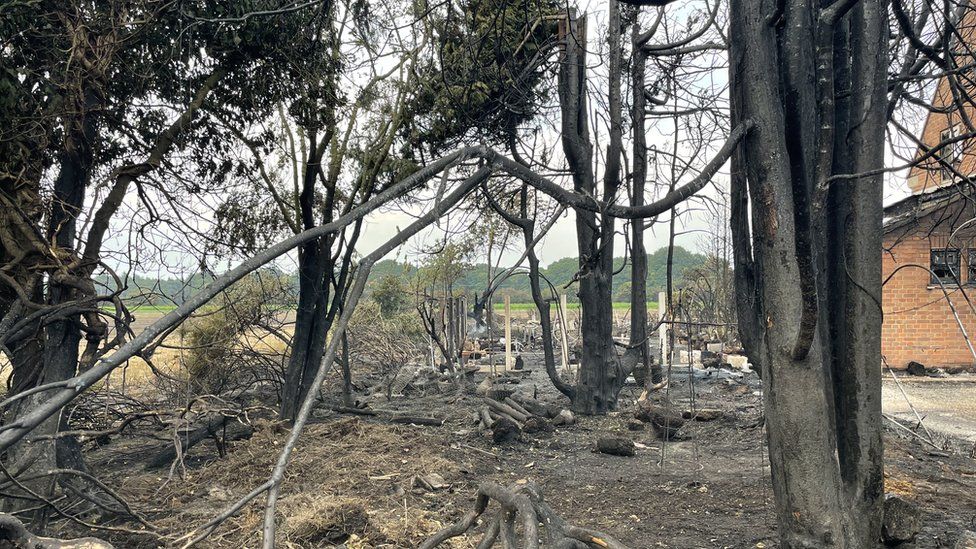 In Poringland, many homes were left as charred remains, with several people now homeless.
Shirley Todd said her 80-year-old sister's home was destroyed and she had "lost everything".
She was told to get out by the police, as she had her curtains closed and was left in "shock".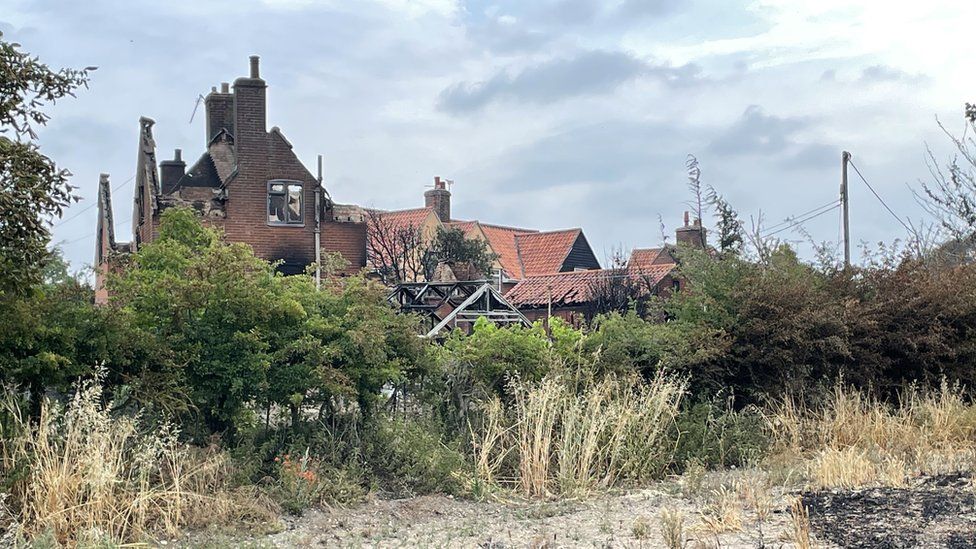 Lisa Gooderham said she was fortunate her home had not been affected and praised the "fabulous" fire crews.
"I've never seen anything like it. Literally, you see if on the telly, the flames were at the bottom of my garden, the smoke was unbelievable. We're lucky we're all here."
She has lost all her chickens and said there was "nothing left" of her chicken pen.
"It's like the scene from The Terminator," she said, referring to the film starring Arnold Schwarzenegger.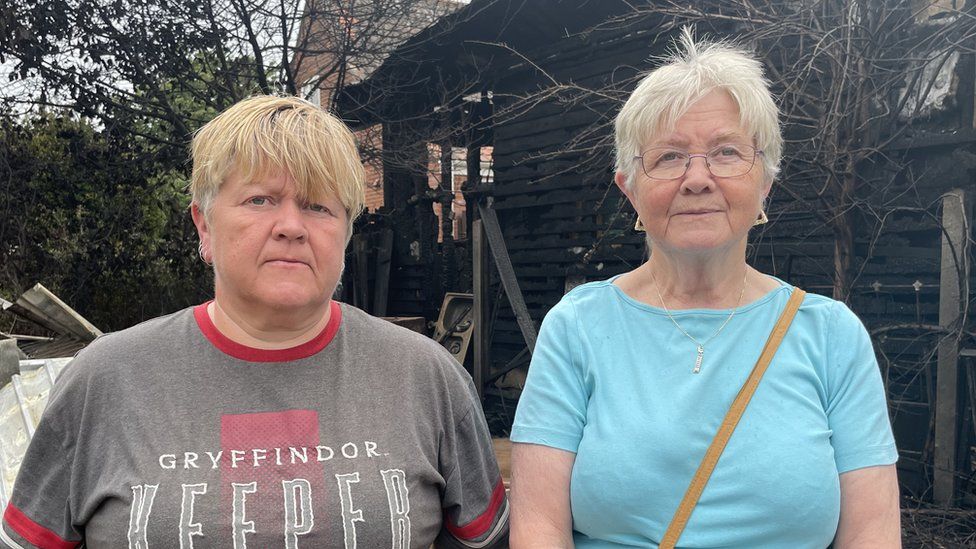 Patrick Hammond was sitting in his paddling pool keeping cool when the fire took hold.
"We should class ourselves lucky that the house hasn't gone," he said.
"You open your curtains in the morning and you think: 'Oh it did happen, it wasn't a dream'."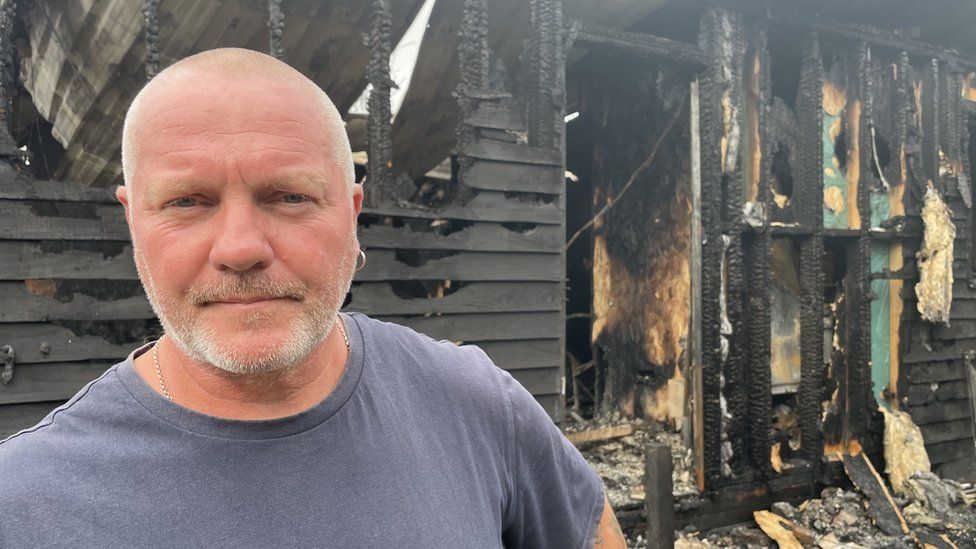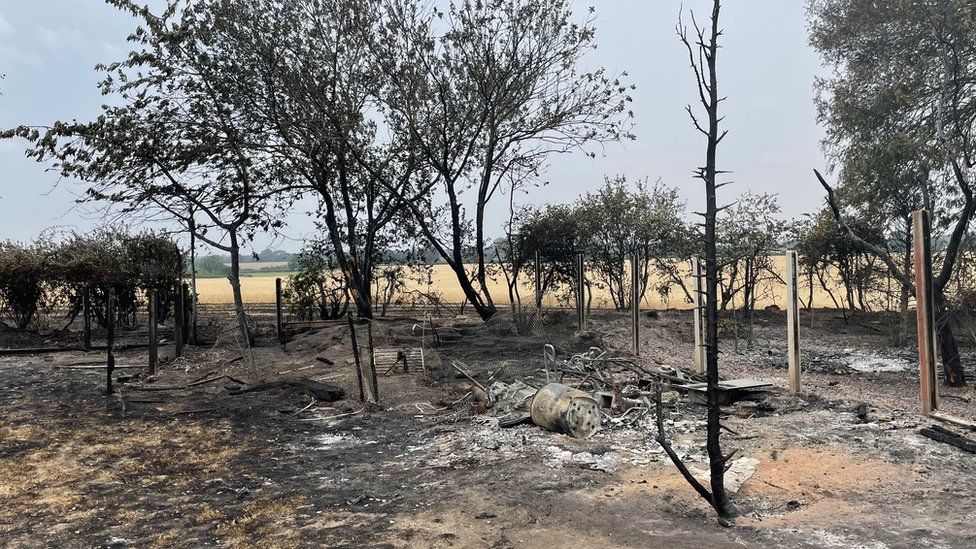 Tom De Winton, chairman of Brancaster Parish Council, said fire spread quickly in Brancaster Staithe after starting in a garden area at about 17:00 BST.
"Five homes were burnt but four homes were ex-council houses and were due to be demolished," he said.
Fire crews then spent "the best part of five hours to stabilise the situation", he added.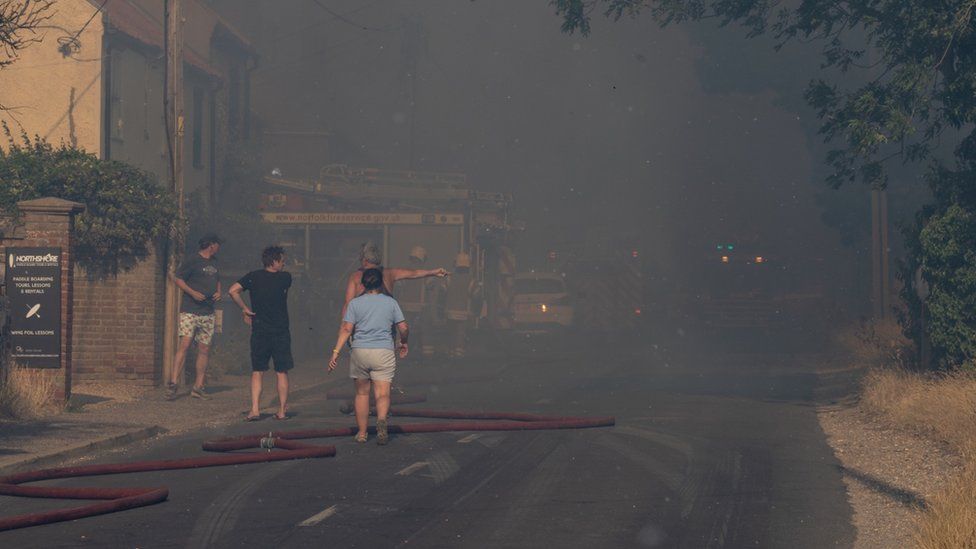 Mr De Winton said up to 25 people required overnight accommodation, organised locally by volunteers.
"It was a fantastic village effort," he said.
"It's absolutely horrible, we're very lucky the fire jumped the road. Why we didn't have more houses burnt I don't know."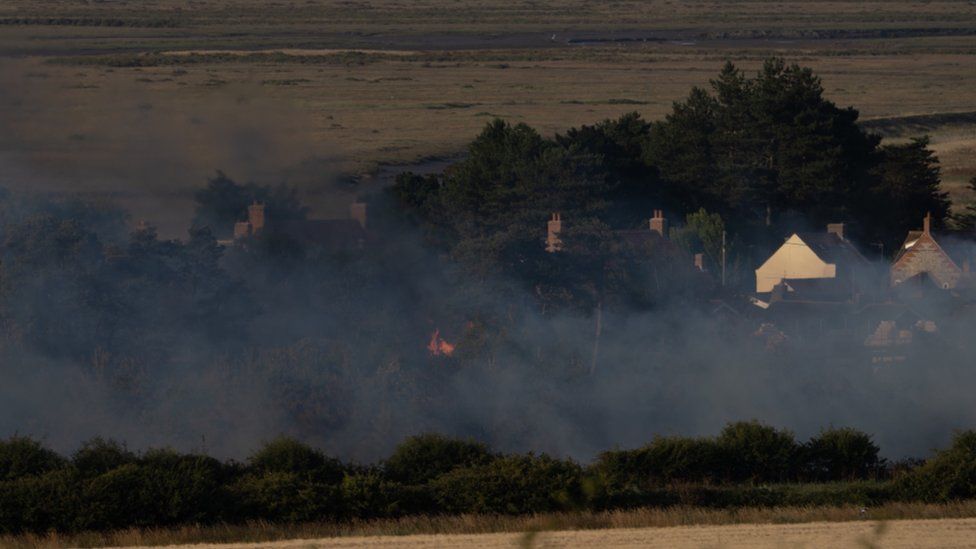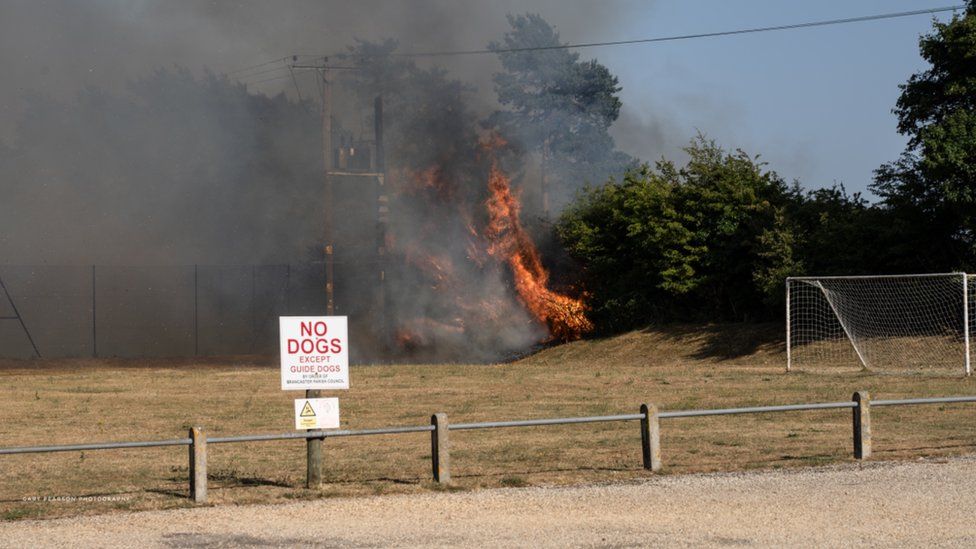 Dominic Buscall, the manager at Wild Ken Hill, said there had been a "bad fire" on the coastal park.
"Too early to say how bad the damage is, but certainly much wildlife lost," he said in a tweet.
"Climate change is here and we need a massive acceleration in our efforts against it."
Unfortunately we have a bad fire in the coastal park at Wild Ken Hill. Too early to say how bad the damage is, but certainly much wildlife lost. Climate change is here and we need a massive acceleration in our efforts against it. pic.twitter.com/7folvCzYPF

— Dominic Buscall (@WildKenHill) July 19, 2022
Conservationist Chris Packham, who has presented Springwatch from the reserve, said on Twitter: "On a day of searing tragedy across the world, this hit home personally.
"So much hard work undone by global madness. All thoughts with those at Wild Ken Hill.
"We've got to learn from this."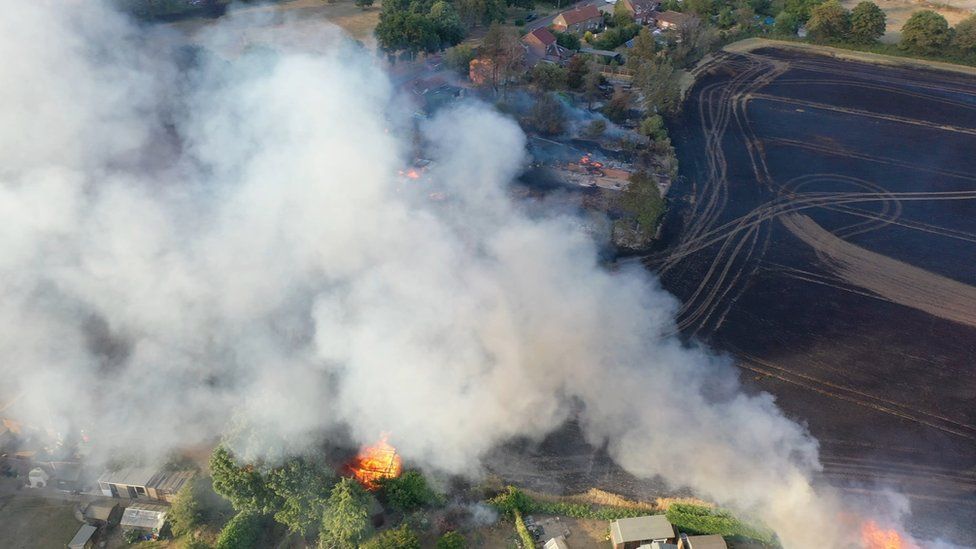 Homes were also lost in Ashill, close to Swaffham, and Ashill Primary School remains closed.
Head teacher Steve Creasey said: "This is following a devastating fire that swept through the village on Tuesday evening, which has affected so many of our families and staff.
"Our thoughts and prayers are with those who have suffered the loss of their homes and to those who have had to evacuate their homes."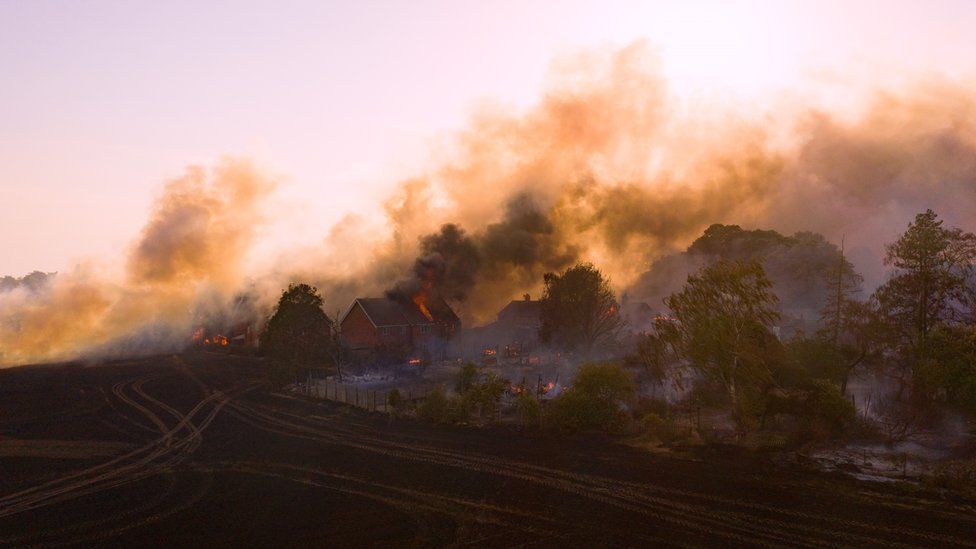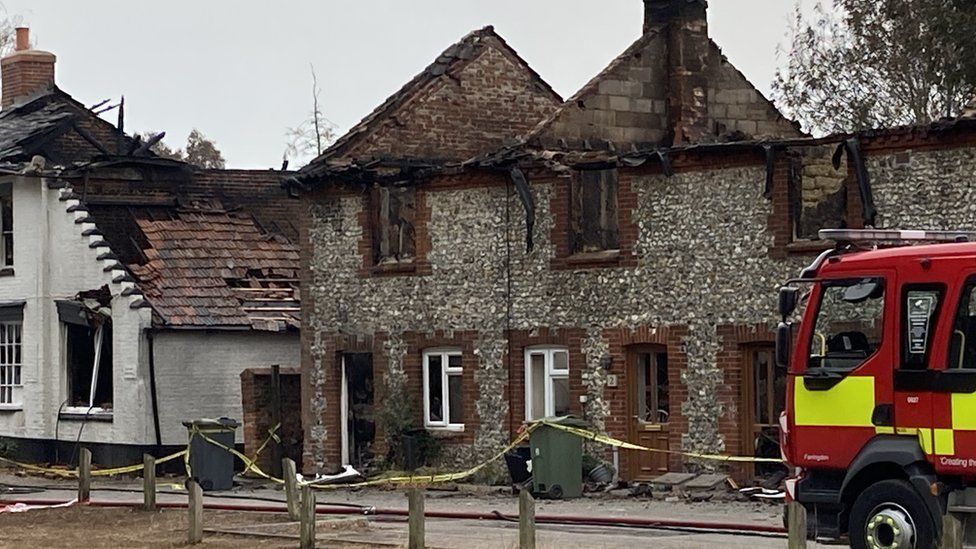 Greg Preston, from Norfolk Fire Service, attended the incident in Ashill and said it had been a "very challenging" time.
Field fires and wild fires had spread across the county and the service had to call in support from Merseyside and Avon as well as calling in people on annual leave, he said.
"We were stretched," he said.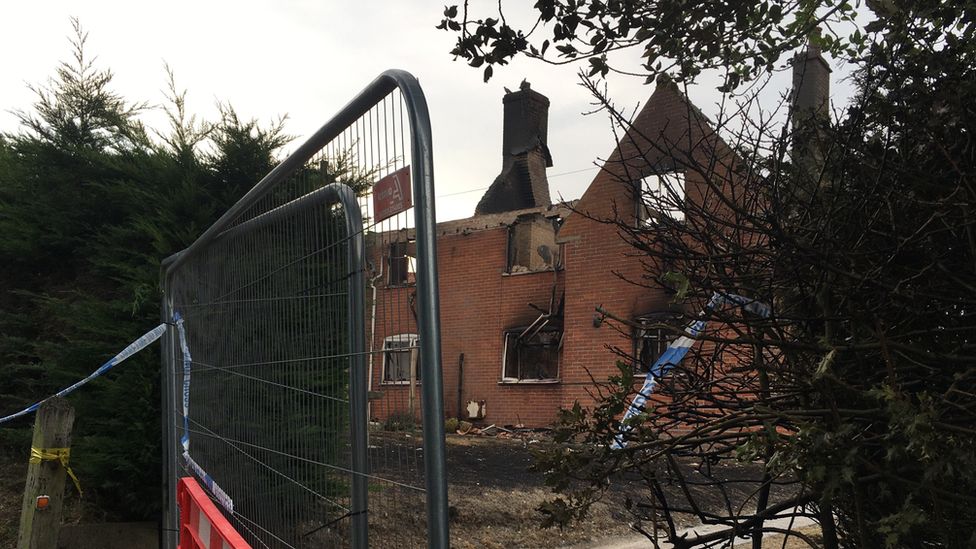 Mr Preston said homes were evacuated and a rest and support centre was set up.
He warned that the worst was "by no means over", and asked everyone to be as safe and careful as possible to prevent fires.

Related Internet Links
The BBC is not responsible for the content of external sites.
Wise (formerly TransferWise) is the cheaper, easier way to send money abroad. It helps people move money quickly and easily between bank accounts in different countries. Convert 60+ currencies with ridiculously low fees - on average 7x cheaper than a bank. No hidden fees, no markup on the exchange rate, ever.
Now you can get a free first transfer up to 500£ with your ESNcard. You can access this offer here.



How to access the offer?

1- Click here

2- Select "Register''

3- Enter your email address, create a password, and select your country of residence

4- Fill out the required personal information, and the free first transfer offer will be applied automatically.


Benefits of the Multi-Currency Account:

- Free to create online

- Hold 50+ currencies

- Get multiple local bank details in one account (including EU, UK, US)

- Convert currency at the real exchange rate, even on weekends

- Spend whilst travelling on the Wise debit card without high conversion fees



Wise International Transfers:

- $1.5 billion saved by customers every year

- Send money to over 60 target currencies

- Lower fees for larger transfers

- No hidden fees. No bad exchange rates. No surprises.

- Send your money with a bank transfer, or a debit or credit card
Source link