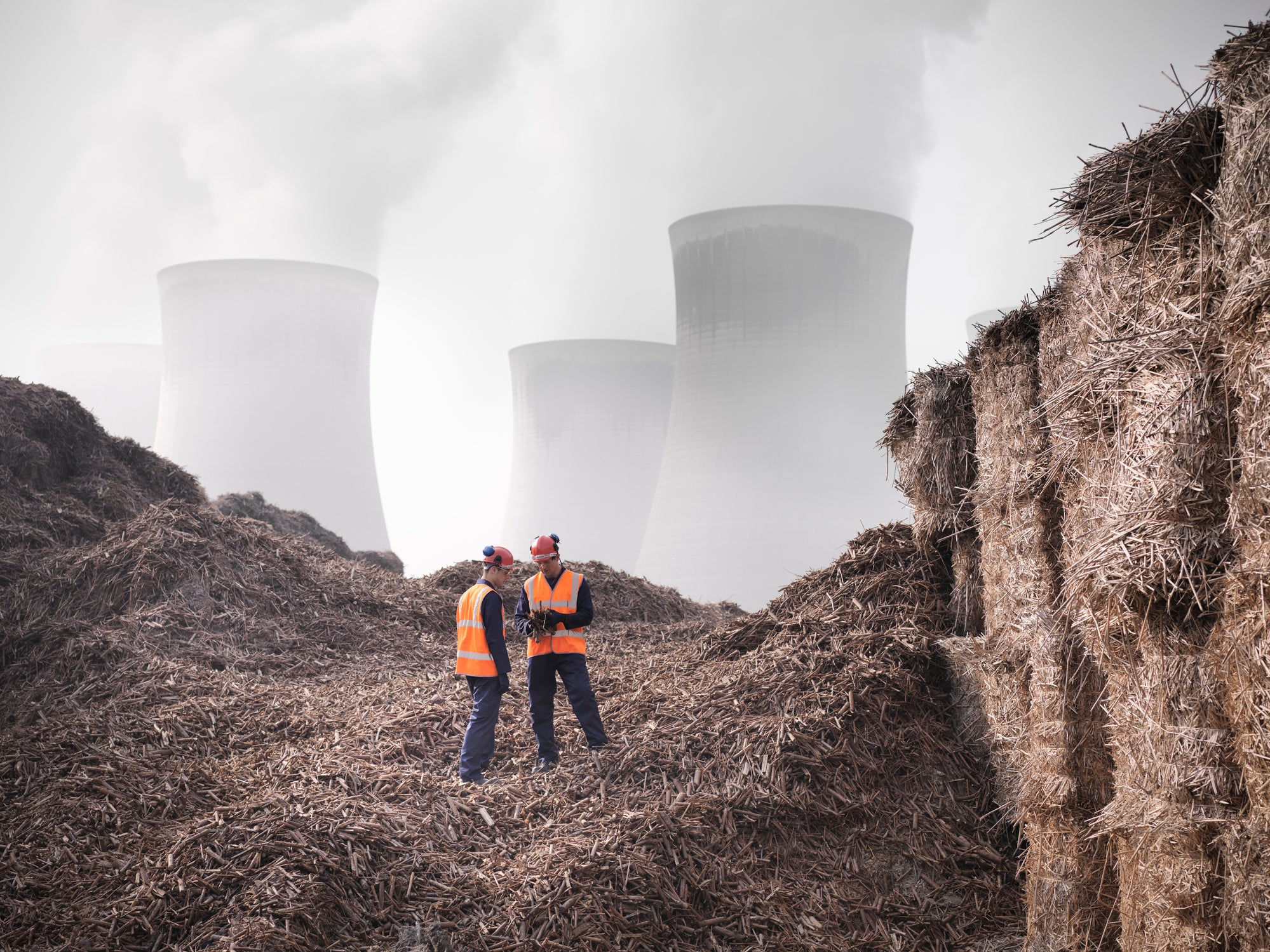 This August, the UK biomass sector received a boost to the tune of $42.9m (£37m) in government funding awarded by the Department for Business, Energy & Industrial Strategy (DBEIS) for projects across the UK. The award was broadly welcomed by the biomass sector, which is hoping to scale up the production of biomass as part of the UK's plans to increase the production of domestic renewable energy.
However, their optimism has since been tempered with concern following the new UK Prime Minister's Liz Truss' inaugural speech in Parliament that laid out her plans for the UK's energy sector. She spoke in detail about how fossil fuels and nuclear power would play a key role in the energy mix, but no mention was made of renewables and biomass.
Nonetheless, Truss made it very clear that the goal was for the UK to achieve energy self-sufficiency and supporters of biomass believe that because of this it will have a small but recognisable role in achieving this ambition. While valid environmental concerns may prevent biomass production from reaching the loftiest heights of its most ardent supporters, who believe that the process could supply nearly half of the UK's total energy by 2050, biomass is set to remain an important part of the UK energy mix.
Funding pledges
The funding pledge made on 4 August by Greg Hands, the previous Minister of State at the DBEIS, included funding for a range of projects, including increasing the growth of elephant grass, farming seaweed off the North Yorkshire coast and increasing the harvesting capacity for willow.
The announcement also made available $5.8m (£5m) in funding to help develop innovative technologies to produce hydrogen, a clean fuel that emits only water vapour when combusted, from sustainable biomass and waste.
The DBEIS said, "biomass' ability to deliver at scale has already been proven, having generated 12.6% of total UK electricity in 2020, forming an important part of our plans to generate more home-grown power and strengthen Britain's energy security."
Hands added, "accelerating home-grown renewables like biomass is a key part of ending our dependency on expensive and volatile fossil fuels … which will be vital for ensuring the UK's energy security and reducing reliance on expensive fossil fuels."
The Biomass Feedstocks Programme and the associated Hydrogen bioenergy with carbon capture and storage Innovation Programme (BECCS) are both funded through the DBEIS' $1.2bn (£1bn) billion Net Zero Innovation Portfolio. The BECCS supports the development of core technologies essential for the generation of hydrogen from biomass and waste with the ability to capture carbon, potentially minimising the environmental impacts of using biomass as fuel.
Environmental credentials and concerns
Research undertaken by the University of Manchester suggests the UK "has the potential to generate up to 44% of its energy from biomass sources, including household waste, agricultural residues and home-grown bio-fuels by 2050." This is clearly a massive increase over the 12.6% generated in 2020 and would represent nearly half of the UK's energy being generated by biomass in less than 30 years.
Although the UK currently represents a tiny proportion of the global annual biomass, use expanding the sector could provide the UK not only with an additional source of renewable energy but the requisite technological expertise that could enable it to tap into the biomass sectors of other countries. The university's researchers are working with rural communities in Vietnam, Colombia and sub-Saharan Africa to turn agricultural residues – like rice straw, coffee husks and sugar cane residues – into sustainable energy sources.
"A large variety of biomass sources exist worldwide, yet it often remains untapped," says the university. "In Asia, for example, rice farming produces about 550 million tonnes of straw residue every year. But this potential fuel source is simply burnt in the fields, resulting in airborne emissions that are hazardous to human and ecosystem health."
Serious questions remain, however, about the environmental sustainability of biomass production and use. A significant issue, given the size and population of the UK, is whether a sufficient amount of the biomass needed to make the sector viable can be sourced internally or whether significant amounts will need to be imported.
In a recent analysis the Telegraph quoted Dr David Joffe, a government adviser from the Climate Change Committee, as telling MPs it is "really important" that the "vast majority" comes from the UK so they can be certain it is sustainable. But this would take a "huge amount of land". It would also compete with government pledges, including on food, rewilding and tree planting to combat climate change.
Dr Daniel Quiggin, a senior research fellow with the environment and society programme at Chatham House, warned: "The tension over land is going to be absolutely extreme the world over and that is the same in the UK. Adding in biomass at the scale net-zero has indicated is going to be very difficult to achieve. It is very difficult to square all of these things."
Problems and potential at Drax
At the heart of their concern is the power company Drax, which operates the UK's largest biomass station, of the same name. Not only is the Yorkshire facility the single biggest emitter of carbon dioxide in the UK, but it imports large amounts of wood pellets from Louisiana to be used as biomass fuel. Currently, about 80% of the wood pellets it uses in the plant are imported from this source, an activity that is heavily subsidised.
According to the energy think tank Ember, Drax received around $966m (£832m) in government subsidies in 2020, up from the $917m (£790m) it received in 2019. Although that support is due to expire in 2027, the company is seeking new subsidies for the development of BECCS as it continues the gradual conversion of its coal-fired power station to biomass power. The government's net-zero strategy envisages that the use of BECCS, "would account for two-thirds of so-called 'negative emissions' in the UK by 2050," according to an FT analysis.
Worries about Drax's activities prompted 50 MPs to write to Kwasi Kwarteng, then the UK's business secretary and now Chancellor of the Exchequer, last year. This August, he was forced to admit that importing US-made wood pellets to be burnt for energy is not sustainable, and in a meeting with a group of cross-party backbench MPs he conceded the DBEIS had discussed biomass with industry but "we haven't actually questioned some of the premises" of the sustainability of pellets.
For its part Drax argues that the pellets used are responsibly-sourced and that any emissions are offset by the growth of new carbon-absorbing trees. It claims that all its wood pellets are made, "not of whole trees but the off-cuts from other industries."
A Drax spokesperson said the company, "is one of Europe's lowest carbon intensity power generators and our sustainable biomass is critical to UK energy security, supplying enough reliable renewable electricity to keep the lights on for four million households".
This mitigation plea by Drax is not accepted by numerous environmental groups and scientists, who have observed that it takes a long time for trees to absorb carbon and that the large-scale harvesting of wood threatens ecosystems. David Joffe of the Climate Change Committee, which advises the government, said there were "big challenges about ensuring the sustainability of biomass grown outside the UK".
Critical biomass
However, the committee does accept the need for some biomass energy if the UK is to reach its target of net-zero carbon emissions by 2050. Kwarteng is also fully supportive of the company and the biomass sector saying it is a vital baseload provider for the UK power network.
"Without Drax, the UK would have to import more electricity from Europe at a time when the continent is in serious trouble," said a government official.
Kwarteng is eager for biomass to speed up its development and match other renewable fuels, such as offshore wind and hydrogen.
Despite the high hopes entertained in some quarters that the biomass industry could grow to generate nearly half of the UK's electricity by 2050, achieving this goal represents a major challenge. For that to happen the UK would first need to overcome a number of environmental, economic and policy hurdles that could yet derail biomass' trajectory.
A more realistic future is that biomass, in combination with carbon capture storage, grows to be an important part of the domestic energy mix while the technological and business expertise gained from its development enables the UK biomass industry to play a significant role in its global development.


Support Lumiserver & Cynesys on Tipeee

Visit our sponsors
Wise (formerly TransferWise) is the cheaper, easier way to send money abroad. It helps people move money quickly and easily between bank accounts in different countries. Convert 60+ currencies with ridiculously low fees - on average 7x cheaper than a bank. No hidden fees, no markup on the exchange rate, ever.
Now you can get a free first transfer up to 500£ with your ESNcard. You can access this offer here.
Source link