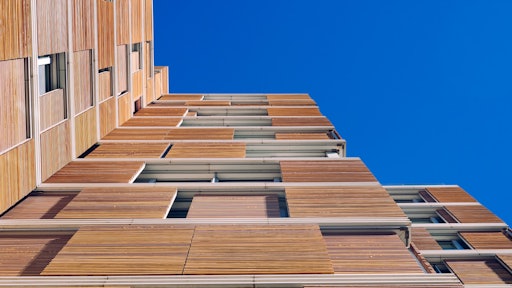 The growing awareness of climate change has made consumers more aware of what companies are doing to reduce or eliminate their carbon footprints.
©Joaquin Corbalan – stock.adobe.com
The construction industry has faced several significant challenges over the past few years. We've seen massive disruptions from the COVID-19 pandemic that created temporary shutdowns of worksites worldwide. The effects of the pandemic are still being felt in the supply chain and have been exacerbated by the ongoing conflict between Russia and Ukraine. Not only do manufacturers see delays in receiving raw materials to make items like steel, mass timber or cement, but they also face a disruption trying to ship finished products to their customers. This scarcity has caused prices for critical materials to skyrocket.
But the price and availability of materials are not the only issues that projects face. There is a growing concern over the environment and climate change, especially after multiple regions experienced extreme weather in recent years. In the data center sector, many of the industry's most prominent players are pledging to be carbon neutral in the coming years. For many, this mostly means they focus on using renewable energy to power their servers. However, energy consumption is just one area where data centers generate a carbon footprint. Over the past few years, there has been a growing awareness of embodied carbon.
Embodied carbon looks at all the CO2 gases emitted in the production of materials and the construction of a facility. To understand how this is all calculated, let's look at one ubiquitous material used in construction: steel.
It begins with iron ore being mined and refined into a usable raw material. This process requires fossil fuels, like diesel or electricity, to power massive mining equipment and concentrators. The material is transported by train, ship, or both (again requiring fossil fuels) to steel mills, where it is sent to coking plants (to remove impurities and bond carbon with the iron) and eventually blast furnaces (which use coal or electricity). The molten steel is cast or rolled into a usable form (using electricity), transported to customers worldwide via ship, train and truck (fossil fuels), and eventually delivered to a construction site.
As you can see, every step of manufacturing and shipping steel to a construction site generates a substantial amount of embodied carbon. In the above example, we haven't included the energy used to install the material on the jobsite, like cranes or heavy equipment, like forklifts. The United States is the world's largest steel importer, bringing in nearly 31.5 million net tons of steel in 2021, according to the American Iron and Steel Institute. That's a lot of carbon just for transportation.
Some of the world's largest steelmakers are working on ways to slash their carbon footprints and thereby reduce the embodied carbon of steel. In Sweden, steelmaker, SSAB partnered with mining company, LKAB and power generator, Vattenfall to create HYBRIT (Hydrogen Breakthrough Ironmaking Technology), a new process to make carbon-free steel. Iron ore sourced from fossil-free mines is used. Instead of using coke and coal to add carbon, hydrogen gas (obtained from electrolysis using renewable energy) is burned to turn the ore into iron. At this stage, the only byproduct of the hydrogen gas is water. The iron is sent to electric blast furnaces (powered by renewable energy) to become fossil-free steel.
So far, the steel made from the HYBRIT process has been used to make vehicles for Volvo. However, it will be several years before SSAB and its partners can scale up production or help ensure the rest of the supply chain is fossil-free. For this reason, many companies looking to build new projects are examining alternative construction materials.
Engineered wood is gaining popularity in the construction industry for its versatility and durability. Also known as mass timber or manufactured board, engineered wood is created by binding fibers, veneers or wood boards together to form a composite material. It is as strong as steel and is fire resistant. It also has many benefits. As a plant, it is a renewable resource. It does not require tremendous energy to produce, like a steel mill. There is an established forestry sector in the Pacific Northwest and Canada, so there is no need to ship it thousands of miles over the seas. Engineered wood comes in various shapes, sizes and thicknesses (as large as 64 by 8 feet, with a thickness of up to 16 inches or more).
Because of this increased strength and high performance, the U.S. building code now allows engineered wood structures of up to 18 stories. It is possible to go higher: an apartment complex under construction in Milwaukee, Wis., will be 25 stories tall (284 ft.), and it will be the highest wooden building in the world.
Engineered wood costs about as much as steel or cement. However, there are additional savings because it does not require specialized tools or skilled labor. Workers can cut it to size on the jobsite and install it with simple tools. The wood can be drilled, routed, jointed, glued and fasted. Installation can be faster than steel and cement, which might require welding or drying time. As it is also made in North America, supply chain disruptions are less likely than for steel imported from overseas. Finally, it could generate a carbon offset credit that could be sold on the carbon market.
As mentioned, engineered wood is a sustainable resource. And, because it joins together wood fibers and veneers, it can use almost any size of a tree, from small to large. That means it doesn't need to come from old-growth forests or environmentally sensitive areas.
Over the past few years, we've seen extreme weather in North America: damaging wildfires, drought, flooding, and a surge in tornadoes and powerful hurricanes. The growing awareness of climate change has made consumers more aware of what companies are doing to reduce or eliminate their carbon footprints. In the data center space, all the big players are working to be carbon neutral, extending to embodied carbon in their new facilities. By embracing alternative construction materials like fossil-free steel or engineered wood, construction teams can reduce the amount of carbon significantly while still building stylish, functional, and sturdy facilities.