HUMAN FACTOR:


The greatest threats faced by wild animals are the loss of their habitats and poaching, both of which are human-sourced, research showed

Stray dogs should not be blamed for the destruction of wildlife, an animal welfare group said on Saturday, adding that people are the main culprits.

The main threats to wild animals are poaching and the destruction of their habitat by humans, the Taiwan Animal Protection Monitor Network said, citing international research into wildlife endangerment.

However, online forums explode with calls for stray dogs to be put down whenever protected wild animals are killed or harmed by strays, the nonprofit said in a statement marking International Homeless Animals Day.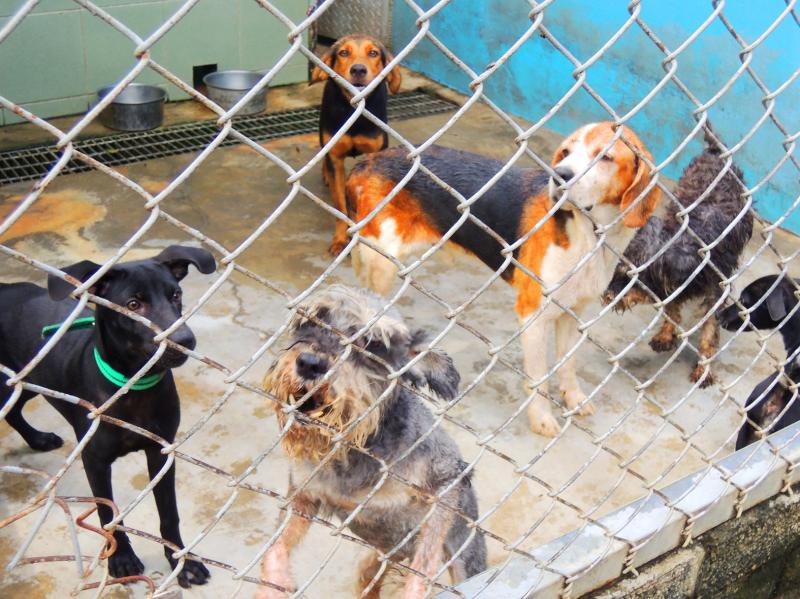 Photo: Tsai Wen-chu, Taipei Times
Taiwan in 2017 banned euthanizing stray animals at public shelters. Only those that have been diagnosed by veterinarians as terminally ill or infected with contagious diseases can be put down.
Over the past five years, 3,718 wild animals have been rescued in Taiwan, 1,633 of them with injuries, the group said, citing Council of Agriculture data.
Of the injured animals, 908 had been hurt in collisions with vehicles, 242 had been caught in traps laid by humans and 299 had been attacked by another animal, the group said.
Stray dogs were responsible for 190 of the animal attacks, the group said, adding that while dog attacks accounted for the majority in that category, dogs caused less than 20 percent of the total 1,633 injuries.
This does not mean the issue of stray dogs should be disregarded, but the solution lies in finding homes for them, the group said.
It urged the government to implement a "trap, neuter, vaccinate and return" program under which borough wardens, animal protection volunteers, and public and private animal welfare organizations would catch strays, have them neutered or spayed and vaccinated, and then released back to the streets.
Authorities should integrate their strategies, plans and resources to better protect wildlife, which is more likely to produce concrete results in the short term, the group said.
Comments will be moderated. Keep comments relevant to the article. Remarks containing abusive and obscene language, personal attacks of any kind or promotion will be removed and the user banned. Final decision will be at the discretion of the Taipei Times.
Wise (formerly TransferWise) is the cheaper, easier way to send money abroad. It helps people move money quickly and easily between bank accounts in different countries. Convert 60+ currencies with ridiculously low fees - on average 7x cheaper than a bank. No hidden fees, no markup on the exchange rate, ever.
Now you can get a free first transfer up to 500£ with your ESNcard. You can access this offer here.



How to access the offer?

1- Click here

2- Select "Register''

3- Enter your email address, create a password, and select your country of residence

4- Fill out the required personal information, and the free first transfer offer will be applied automatically.


Benefits of the Multi-Currency Account:

- Free to create online

- Hold 50+ currencies

- Get multiple local bank details in one account (including EU, UK, US)

- Convert currency at the real exchange rate, even on weekends

- Spend whilst travelling on the Wise debit card without high conversion fees



Wise International Transfers:

- $1.5 billion saved by customers every year

- Send money to over 60 target currencies

- Lower fees for larger transfers

- No hidden fees. No bad exchange rates. No surprises.

- Send your money with a bank transfer, or a debit or credit card
Source link