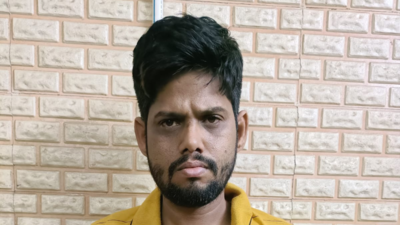 Builder Ajit Singh. (Photo: Hanif Patel)
MUMBAI: The absconding builder among the six held responsible for the landslide in Vasai that killed two members of a family on Wednesday was arrested from Kandivli late on Thursday.
Two FIRs naming six people, including the land owner, have been booked for culpable homicide not amounting to murder.
Ajit Singh, owner of Mitwa Realty had fled to Vapi in Gujarat after the incident. Cops of the Crime Branch Unit 2 were tipped off about Singh arriving in Kandivli, from where he was arrested.
The landslide occurred in the forested hillock at Wagralpada in Rajavali area of Vasai (east) on Wednesday at around 6am.
Huge boulders came rolling down the hillock and destroyed the brick-wall and tin-roofed room of Amit Thakur (35).
He and his 16-year-old daughter Roshni were buried underneath the rubble. Their bodies were retrieved after a search of over five hours.
The Vasai Virar Municipal Corporation (VVMC) Assistant Municipal Commissioner Nilam Nijai had registered two FIRs with the Valiv police station. The first case was filed under IPC section 304 (culpable homicide not amounting to murder) against Singh and land owner Mary Gracias.
Singh had purchased the plot from Gracias and constructed the Ekta Welfare Society chawl seven years ago. Civic officials said the land on which the landslide occurred is a private plot.
The second FIR was registered against three men Shailesh Nishad, Ratnesh Pandey and Anil Dubey, accused of constructing illegal chawls on government land in the Rajavali area. An unidentified real estate agent has also been booked. They are absconding.
There are over 2,000 illegal chawls occupied by people. The chawls are constructed overnight and sold to people for Rs 3-5 lakh.
The government had announced a Rs six lakh each compensation to the victim's family. Thakur's wife Vandana (33) and 10-year-old son Om had escaped with minor injuries.
FOLLOW US ON SOCIAL MEDIA
FacebookTwitterInstagramKOO APPYOUTUBE